In August of 2019, the Wolf-Gordon Design Studio took a trip to Manhattan's Museum Mile to see the "Nature—Cooper Hewitt Design Triennial." The exhibition featured works of various designers who collaborated with scientists, engineers, and artists to reflect on man's transformative relationship with nature. Inspired by the exhibit and in acknowledgment of the climate crises we are currently facing, the studio continued its exploration of a more sustainable wallcovering product, seeking to reduce our industry's impact on our declining ecological system.

The result of the research is CLAIR—a PVC-free wallcovering that meets or exceeds Type II performance standards, and is bleach cleanable. Ten designs were then developed for the CLAIR collection, featuring classic and nature-inspired patterns with a contemporary attitude.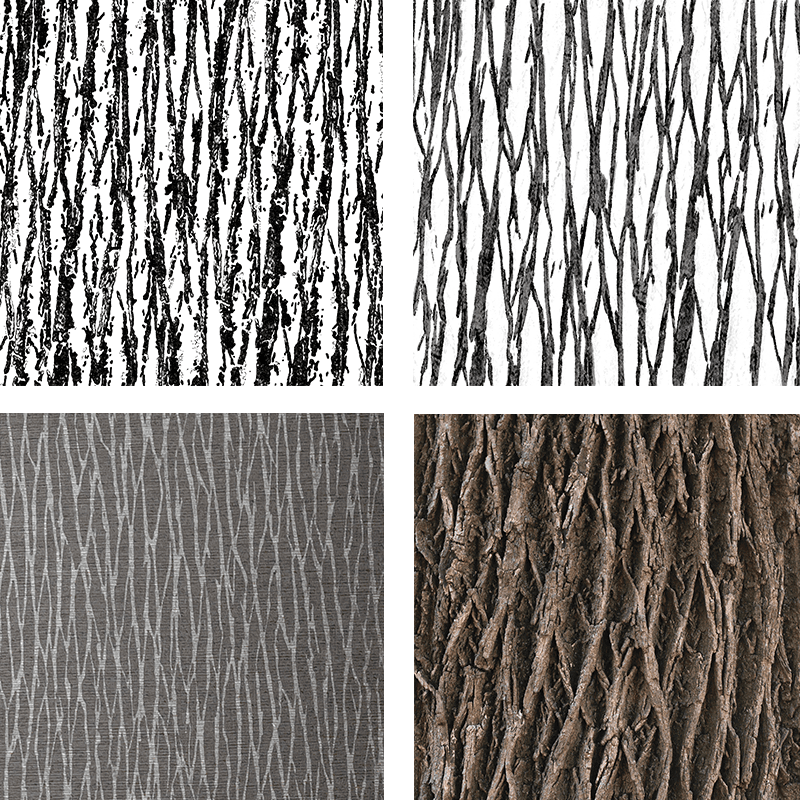 Inspired by the deep-ridged texture of the bark of an oak tree, our lead designer, Michael Loughlin, took a special interest in developing the pattern Pando. Loughlin translated the bark texture into a line drawing that was the basis for this distinctive design. The midscale pattern will grace walls with an intriguing organic quality, suited to interiors that incorporate biophilic design. Printed, for the most part, in low-sheen metallic inks, the linework is set against a fuzzy textured background that melds with a horizontal rippled embossing to complete the natural effect. The neutral palette ranges from soft gold and silver inks on white, beige, and tan grounds to copper and pewter on brown, taupe, and slate.
Free of PVC, phthalates, and other Red List chemicals, Pando makes for a perfect sustainable alternative.