As we have all made adjustments to our work and home lives, we want to assure you that Wolf-Gordon is here, providing the service you've come to expect.
We continue to improve functionality on our website and provide digital tools to give you a more comprehensive and stimulating view of our products and services.
Our account executives will make in-person appointments or serve you by phone or video conference and can make virtual presentations to keep you up to date with our latest products.
Our sampling facility maintains a safe work environment and is ready to fulfill your sample requests.
Of course, you can always contact our Customer Service Team for immediate assistance at (212) 255-3300.
Thank you for your support and be well,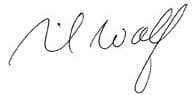 Rick Wolf
Chief Executive Officer