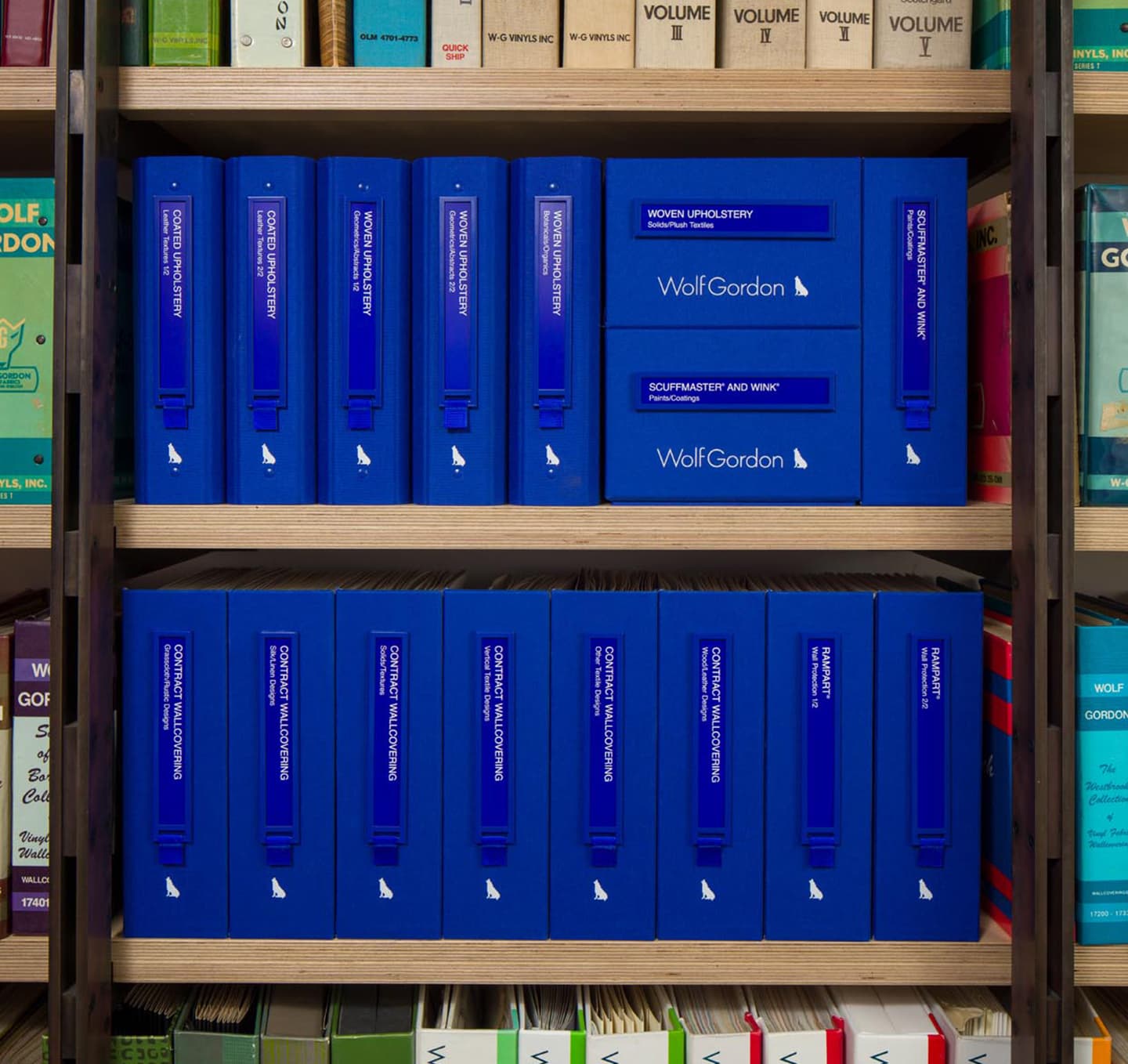 Are you ready for a refresh? We can help! Wolf-Gordon has developed a new, fully customizable merchandising system for easy access to our tip cards, memo samples, and paint swatches. Our goal is to help you find the right products for your projects, as quickly and seamlessly as possible.
The Time is Ripe
As many of you are starting to return to design studios, Wolf-Gordon Account Executives are ready to assist in your transition back to working in person. Account Executives are making it a priority to work with you and your library administrator to set up your unique system. Your Account Executive will customize your binders, boxes and bins for the products you specify, and within whatever spatial constraints you have.
Research and Development
Here are the top seven areas that Wolf-Gordon's designers focused on when developing this program:
Modular components with as little wasted space as possible;
Streamlined, simple look for client shelves;
Cohesive, easy to find use of Wolf-Gordon Blue;
Customizable and changeable labeling;
Pleasant tactile experience;
Easy to handle (not too large, not too heavy when filled); and,
Sustainable materials.
A Customizable Solution
The outcome of the design process is a system of binders, boxes, bins, and trays that allow for customization and flexibility:
Binders are great for organizing upholstery textile tip cards. Our new binders are designed with flexible spines that adjust to the spatial constraints of shelves.
XL Binders are made to contain wider pages and tipcards.
Boxes with a deep-cut angle can be used to hold and peruse our wallcovering tipcards.
Bins are stackable and ideal for storage of upholstery memo samples.
Trays that fit three across in a bin are perfect for holding Scuffmaster® fandecks and paint chips.
When placed side-by-side, the components fit together perfectly!