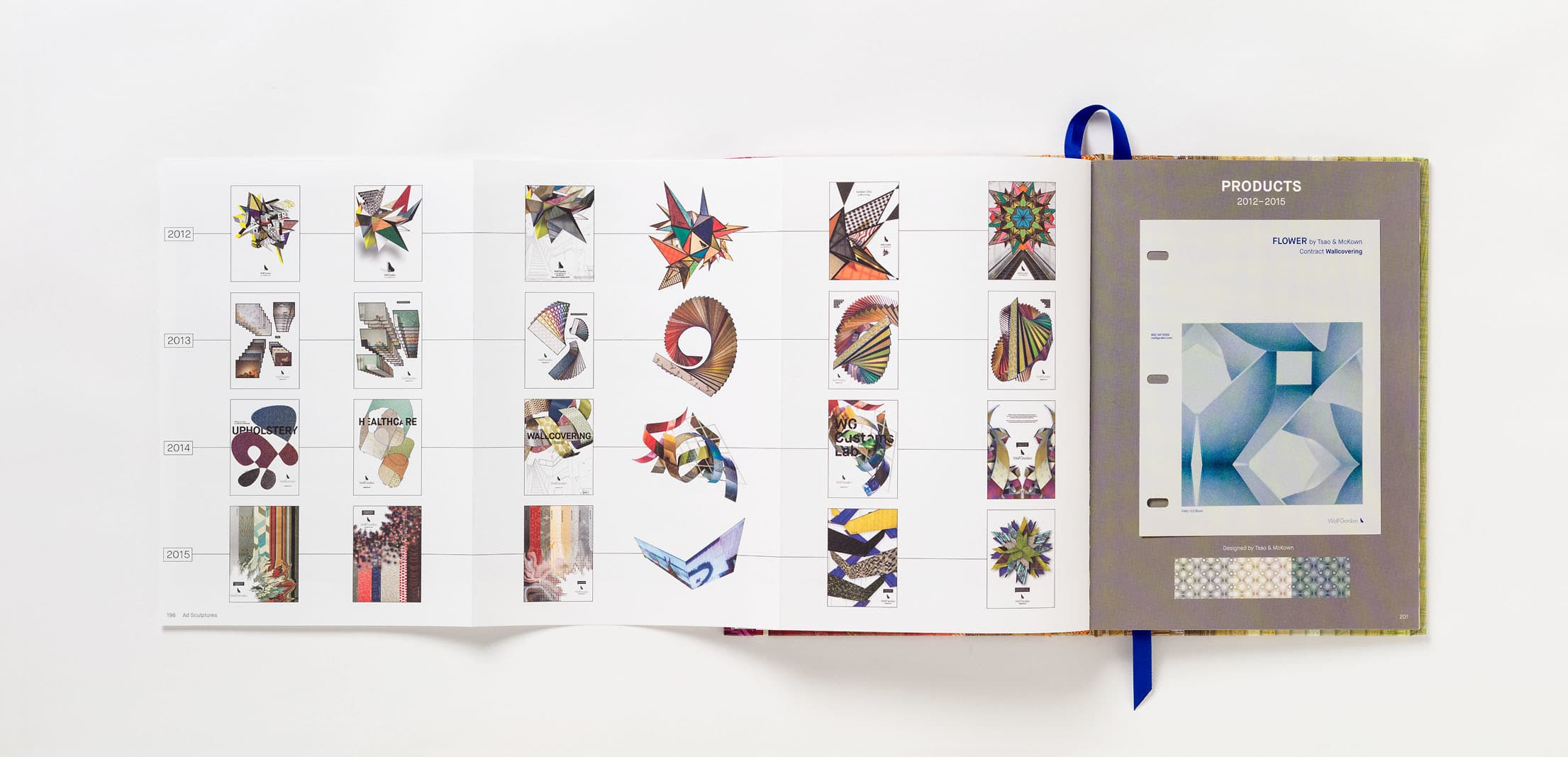 Between 2012 and 2015, Wolf-Gordon surprised NeoCon attendees with awe-inspiring sculptural installations above the main escalator—essentially hovering over the main civic space—of the Merchandise Mart. The precipitous location of the installations was ideal for infusing color, pattern, and form into our industry's premier trade convention. Wolf-Gordon's CCO, Marybeth Shaw, worked with designers Hjalti Karlsson and Jan Wilker of karlssonwilker, engineer and fabricator Jorge Perreira of The New Motor, and architect Graham Kelman to realize these challenging projects that served to support the Wolf-Gordon brand while celebrating the ambitions of commercial interiors in a communal setting.

In 2012, the "Crystalline Dragon," a 1,380-pound structure that appeared to radiate energy, was composed of over 250 faceted panels covered in over 500 yards of Wolf-Gordon's wallcovering, upholstery textiles, and architectural paint finishes.
The next year, 2013, saw the installation of a deceptively simple feat of engineering: "Force of Nature" was designed as a barrel roll of repetitive panels connected by vertebrae. A slight tapering on one side of each blue connecting box created a twisted spine that gave a sense of movement. Nearly 30' long and 14' wide, this installation featured 136 Wolf-Gordon products arranged by color, forming a gradient that spanned from warm colors in one direction to cooler shades in the opposite direction.
Having featured animal and mineral themes in the first two projects, the design team imagined leafy strips of botanical inspiration in 2014's "Ribbon Cloud," an assemblage of twelve, 12-foot sculptural "ribbons" that intertwined around a gridded truss for visual complexity. To form identical arcing and twisting panels, Perreira built a massive custom formwork to which he molded waterlogged panels, one by one, before drying them and cladding them in Wolf-Gordon's surfacing materials.
Following three successive analog sculptures, the 2015 installation went digital with "SLICE", a thirty-foot-long monolith with a screen of over fifteen thousand LEDs. Additional design, fabrication, programming, and installation were conducted by A-V Controls. Once again suspended over the main escalator bank, SLICE created an innovative interaction between rider and sculpture. Hidden in the LED panels were cameras that recorded images of each escalator rider and displayed their likeness at the beginning of the "ride." As one ascended, one's likeness became progressively more deconstructed into abstract fields of color. As a follow-up to the NeoCon installation, karlssonwilker took recorded footage from SLICE and created a digital print wallcovering that bears its name, in Wolf-Gordon's Curated Collection.

The sculptural installations during 2012-2015 also provided cohesive communications themes for Wolf-Gordon, a process that is well-documented in the company's 2017 publication, Sample Book: 50 Years of Interior Finishes.

"Beyond their visually arresting impact for show attendees, our sculptural installations at NeoCon are an essential, unifying feature of our communications, as we aim to speak to our audience about meaning and process. We design our annual ad campaign around the real stages of conceptualizing and developing the sculpture, between January and June; then, we feature photography of the completed, installed sculpture during the second half of the year, focusing on specific products on the display."
—Marybeth Shaw, CCO, Wolf-Gordon
Essential to the ad campaigns, as well as to social media and other communications on the sculptures, were the exquisite still photographs and videos taken by photographer James Shanks. Such storytelling, which educated designers and specifiers about Wolf-Gordon's design-centric philosophy and continues via this retrospective on our website, is not possible without a robust visual archive.