This year, we're shaking things up a bit with the QUIET RIOT collection by renowned textile designer Dorothy Cosonas. Featured are four upholstery textiles and three wallcoverings, all of which are PVC-free and high-performing.
Mischief, the headlining woven upholstery textile, has a large-scale floral camouflage motif that complements the other patterns.
Stripe Zone is a unique polyester upholstery fused with a graffiti-proof TPE topcoat, which is digitally printed with an interconnected stripe design.
Lineage, a texturally rich study of raffia and knitted textiles translated to upholstery, incorporates 12 different weft yarns in each of its colorways.
Square Not is a geometric pattern that contributes the look of an allover texture and features a special multicolor twist yarn–the first of its kind to convey the impression of yarns floating on the surface.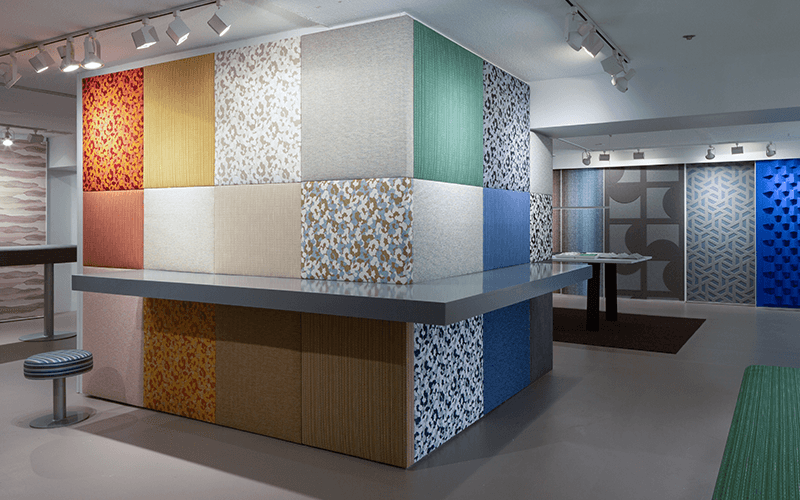 The Quiet Riot wallcoverings include:
Purr, a CLAIR® bleach-cleanable, PVC-free Type II wallcovering inspired by leopard prints popular in fashion and interiors;
Mirror Image, a simple, elegant textile wallcovering that combines a matte polyester yarn with a high-sheen tape yarn for a hint of glam;
Smooth Operator, designed with the look, appeal, and tactility of a textile wallcovering that can be used for wrapped panels, with the added bonus of passing Type II standards.
Wolf-Gordon is also showcasing our GATHER® Acoustical products at NeoCon. Because acoustical comfort is integral to our well-being in the spaces where we work, learn, heal, and enjoy life, we offer GATHER panels that provide NRC ratings from 0.25–0.90, which can be applied directly to walls or installed with hardware to divide spaces.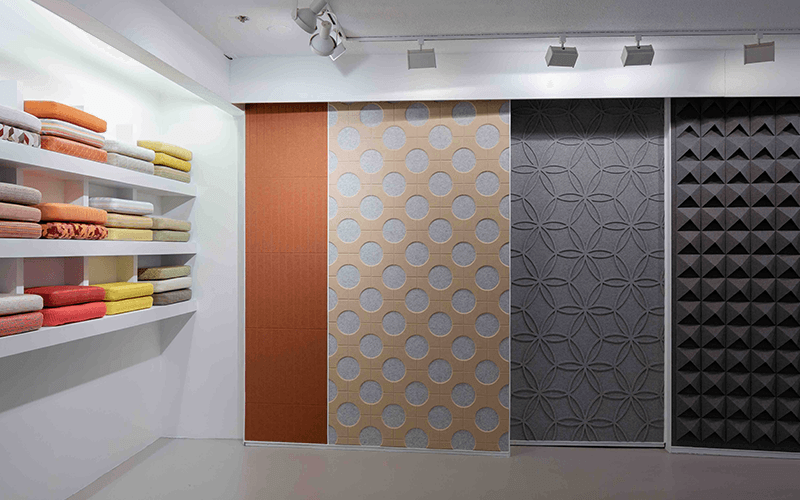 The lightweight, semi-rigid 1/4"-thick panels measure 4 feet by 10 feet and are made of 60% post-consumer and 40% pre-consumer recycled polyester. GATHER Acoustical is available in 12 felted colors and a variety of techniques: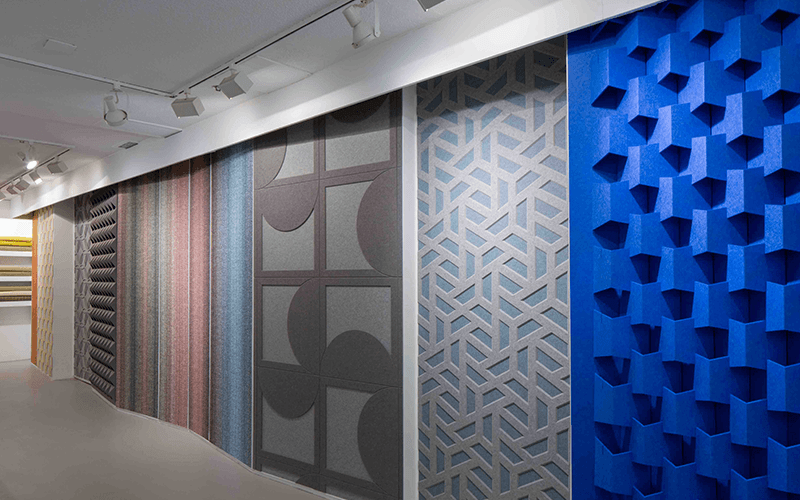 Of course, also on display are a colorful array of our upholstery textiles that integrate beautifully with the new Quiet Riot offering. And, peruse several imaginative wallcovering designs that were created by various artists for our PROJECT: HI > AI, an exhibition that explored what distinguishes human-generated work vs artificial intelligence.