When developing the latest additions to our RAMPART® Wall Protection line, WG Design Studio sought to create two patterns that were simple, clean, and uplifting. Since RAMPART has been tested to hold up to a range of hospital-grade cleaners and disinfectants, in addition to protecting against impact and surface abrasion, appealing to healthcare and health-minded environments was also a priority.

During the creative development process, it was determined that one of the patterns be influenced by the healing power of nature, without being a literal interpretation; be soothing without being boring; and be scaled so as to have a textural effect with a pleasing rhythm. When exploring possibilities, an abstract design of small randomized shapes (shown above) became a source of inspiration. Upon closer inspection, it was apparent that the shapes were the negative spaces resulting from layers of circles. By creating a more structured version of overlapping circles with an offset grid at a larger scale (above), various motifs could be discerned—most notably a field of daisy-like flowers. "Voila!" a pattern was born. The name, Venn, followed, owing to the concept of a Venn diagram, which uses overlapping circles to compare related items.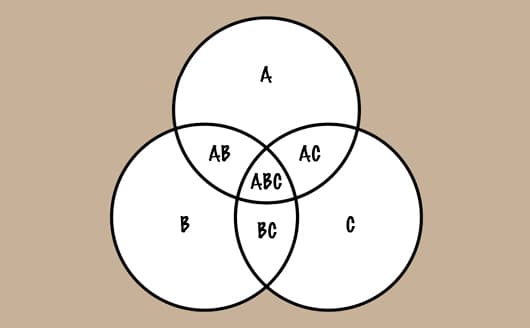 Intending for the second new RAMPART pattern to act as a textured coordinate with universal appeal, Venn Texture was developed. Where Venn might be used for feature walls or accent areas, the soft linear print and vertically-oriented silk embossing of Venn Texture lends itself to broader use throughout an interior. The palette includes an array of fresh, cheery, and contemporary colors.
The understated elegance of both new patterns belies the strength, durability, and stain resistance, characteristic of every RAMPART wall protection product. Both Venn and Venn Texture offer a flexible alternative to rigid sheet goods, engineered to protect high-traffic interiors from abuse. And, the easy-to-clean surface has been third-party tested to hold up to diluted bleach, quaternary compounds, and other EPA-list disinfectants.