We are excited to be opening our showroom at theMART for NeoCon 2021. Wolf-Gordon has continued to develop new products throughout the pandemic, many of which will be on display in Suite 10-161, from October 4 thru October 6.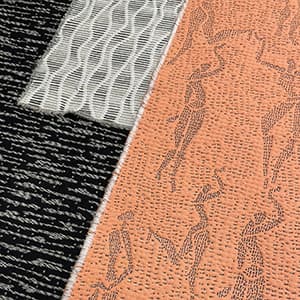 A highlight will be a special upholstery collection designed by V Starr, the design studio headed by Venus Williams. Celebrating the power of women through form, color, and texture, The Muse Collection is being previewed and sampling will be available in December.

Also in preview is Sirona, an inherently antimicrobial commercial upholstery textile that Wolf-Gordon is bringing to the market. Developed with Geo. Sheard and Coats Group, the innovative construction has copper and silver salts embedded into the yarn instead of a topical antimicrobial made of toxic chemicals, and it is 99.9% effective against many pathogens.
Panels featuring our latest contract wallcovering patterns and versatile CLAIR® collection of PVC-free, bleach-cleanable, Type II wallcovering designs are on view. We are also introducing RAMPART® Resolve™, which includes four new PVC-free versions of our popular RAMPART wall protection.
To showcase our award-winning Curated Collection of images, WG Customs Lab has digitally printed works by several of the accomplished artists that are included.