March 7, 2022—On Wednesday, March 2nd, Wolf-Gordon and Interior Design hosted a special event to celebrate the award-winning Muse collection of upholstery textiles designed by Venus Williams' South Florida design firm, V Starr. The 21st floor cocktail reception, set in the Chelsea art district against exquisite views of Manhattan and the Hudson River, incorporated essential features of Muse: joy, movement, and supportive community as expressed in live dance vignettes throughout the evening. The gathering of New York's A-list designers was significant for our collective emergence from the pandemic.
On hand to conduct interviews with Williams were Lila Allen from @archdigest AD PRO, Ethan Tucker from @metropolismag, and, of course, Editor-in-Chief Cindy Allen from @interiordesignmag. Wolf-Gordon President Rick Wolf and CCO Marybeth Shaw greeted @vstarrdesign Principal Sonya Haffey, who collaborated closely with the Wolf-Gordon design team in ensuring that The Muse Collection by V Starr reflected Williams' interest in developing patterns that express feminine strength, grace, and resilience.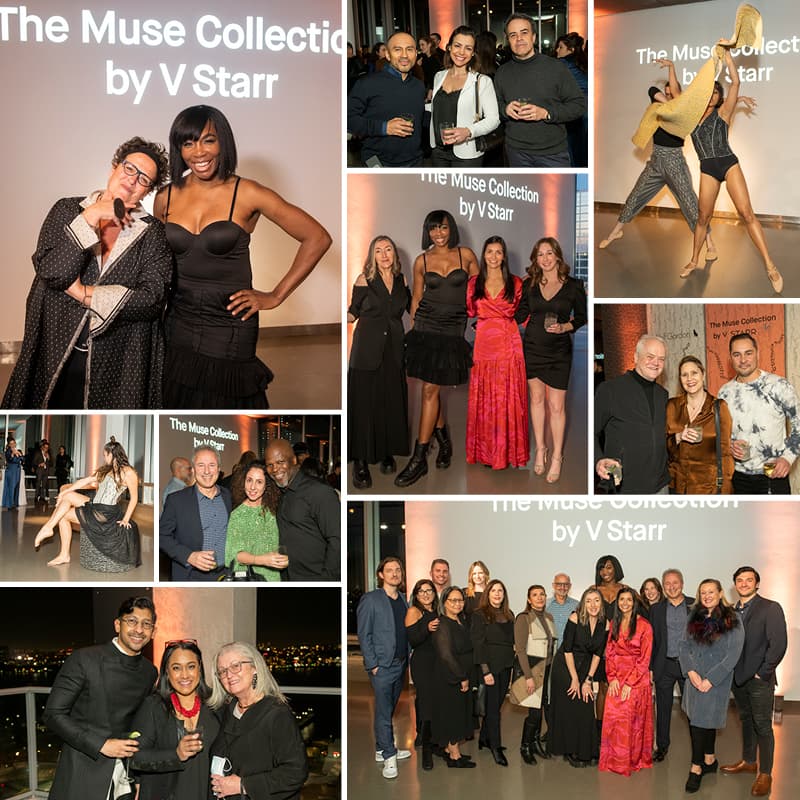 Held at NYC's Glasshouse Chelsea, guests were wowed with spectacular views (and a gorgeous sunset) of Downtown and Midtown Manhattan while enjoying architecturally inspired hors d'oeuvres and blackberry elderflower spritzers crafted for the occasion. Floor-to-ceiling panels sporting Elena and Frida—two of the Muse textiles—acted as a backdrop for photographs. Pillows made from the fabrics and the third Muse pattern, Ora, decorated the event space.
Three contemporary dance pieces, choreographed by Maria A. Konrad featured @cooper.everson, @darynvictoria, @maiamontgomery, and @maiseeanderson with props upholstered in Muse fabrics. Even the dancers' costumes cleverly incorporated the unique textiles that represent V Starr's first venture into product design.
Muse by V Starr Launch Party with Interior Design Magazine from Wolf-Gordon on Vimeo.