Acoustical Wallcovering
These sound-absorbent wallcoverings are designed for use on vertical surfaces, panels, operable walls, and any place sound reduction is a primary factor. Made with 95% post-consumer content recycled from water and soda bottles, the durable material is bleach cleanable, inherently antimicrobial, and it resists fading from sunlight.
Felted Techniques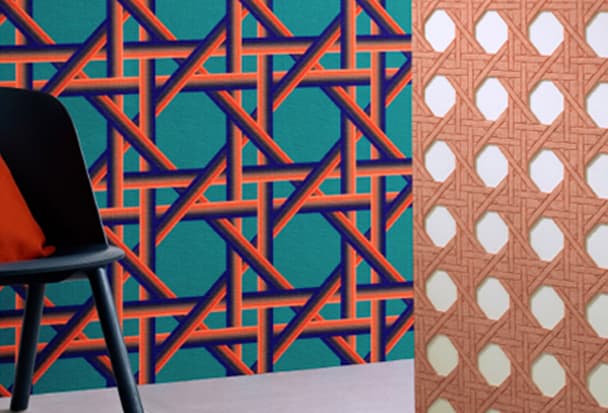 WG Customs Lab offers digital printing and special techniques for our Felted acoustical wallcovering. The dense construction of this premium felt material allows for laser cutting shapes or micro-engraving linework in the design of your choice.

When digitally printing a photo, illustration, graphic design, or typography, the "White" colorway will yield the most accurate color reproduction. However, you can alter the overall color tone of a design by printing on one of the lighter colorways, such as "Snow", "Sea Foam", or "Cloud".
Shapes of virtually any size (up to 51") can also be cut out of Felted using precise laser technology. Multi-dimensional designs can be created by layering a second or third felt color behind cut-out areas. A pressure sensitive adhesive (PSA) backing is required when laser cutting, and four of the Felted colorways are stocked with the backing, if you're in a time crunch. FELT 600B/Thundersnow, FELT 602B/Uppity Gray, FELT 605B/Black Coal, and FELT 612B/Cobalt are readily available in a 54" width.

For a more subtle effect, a linear design from your vector file can be engraved into the felt surface. You can also combine processes, such as laser cutting and engraving, as shown in the photo above.
Have a concept for a design, but need help bringing it to fruition? WG Customs Lab can create a design or pattern for you. For more information or costs of producing specialty techniques on Felted, contact [email protected].